Centrums publikationer
NYHETER
Böcker
2016
Stockholmsbörsen på en förändrad finansmarknad
Mats Larsson red.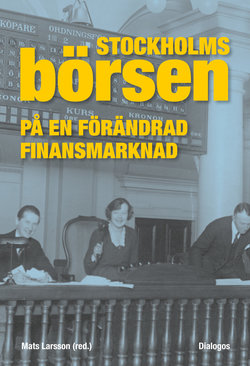 Utgiven av Dialogos förlag, 2016.
Kapitel
2016
Artiklar i tidskrifter
2016
Is Swedish district heating operating on an integrated market? Differences in pricing, price convergence, and marketing strategy between public and private district heating companies
Lars Fälting, Anders Forsell & Magnus Åberg
The deregulation of the Swedish electricity market in 1996 made it possible to operate municipal district heating commercially. Until that time district heating had been organised mainly as municipal utilities. After 1996 district heating is instead expected to function on a market. In competitive and integrated markets, prices are expected to be equal, or converging. To find out if district heating operates on an integrated market the differences in price levels, price convergence, price strategy, and business goals, among municipal, private and state owned district heating companies are investigated.
Price statistics was used along with results from a questionnaire that was answered by representatives for 109 Swedish district heating companies. The results show that prices among district heating systems do not converge significantly and that variations in prices among municipal systems are larger than among private and state owned systems. Furthermore, despite the fact that district heating is supposed to be commercial, a vast majority of district heating companies apply cost-based pricing and not market pricing. The municipal companies give priority to political goals before financial goals. The conclusion is that a Swedish integrated market for heat has not yet evolved, and some district heating price-controlling mechanism is necessary.
Published in Energy Policy, vol. 90, p. 222-232, 2016.
Savings banks and working-class saving during the Swedish industrialisation
Kristina Lilja & Dan Bäcklund
Published in Financial History Review, vol. 23, p. 111-132, 2016.